Here at BOS we have been hearing this question a lot recently. As our goal is to provide research on natural ingredients that our readers are most interested in, we have decided to dig a little deeper into the African Mango mystery…
African Mango, Irvingia Gabonensis, IGOB131 – What Does It All Mean?
The African Mango grows in…wait for it…Africa! To be more specific it tends to grow in the tropical jungles of Cameroon. As much as we love how easy it is to pronounce African Mango, we need to level with you, African Mango is not the real name of the plant. Irvingia Gabonensis is the actual name of the fruit bearing plant – I know, it doesn't exactly roll off your tongue.
You may see articles online talking about weight loss and African Mango, Irvingia, Irvingia Gabonensis, Bush Mango or Wild Mango – just understand they are all just different names for the same fruit.
As you can see in our heading, we also list one other name – IGOB131 – catchy, isn't it? Actually IGOB131 is a patented extract of Irvingia Gabonensis seed kernels. Don't worry, we will talk more about this later, we just wanted to get some of the boring terminology out of the way.
Does Eating African Mango Help You Lose Weight?
No. It turns out that the African Mango, while tasty, does very little to help with weight loss.
However, those tiny seeds inside the African Mango may very well help you lose some weight!
Here are the results of a clinical study done on the IGOB131 we discussed above –
In one 10-week double blind study, 102 overweight subjects received either 150mg capsules of IGOB131 extract or placebo, twice daily before meals. At the end of 10 weeks, the IGOB131™ group lost an average of 28 pounds, 6.7 inches from their waistline and reduced body fat by 18.4%. Also serum chemistry changes demonstrated IGOB131™ patients reduced total cholesterol by 26%, LDL cholesterol by 27%, fasting blood glucose levels by 32% and serum CRP levels by 52%.
Clearly, these are very impressive results. It was just one study, and we would love to see a larger sample used, but this starts to explain why so many people are talking about Irvingia and weight loss.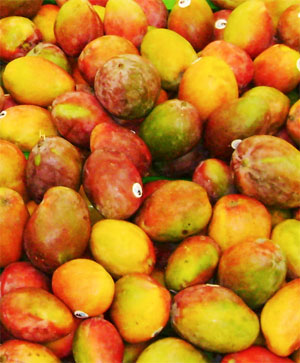 Why Is African Mango Suddenly So Popular?
Clearly it is because everyone reads the riveting, exciting, can't put it down - Lipids in Health and Disease Journal that the above study was published in! Hey, you can't fault us for dreaming. No, African Mango is all the talk because everyone's favorite TV doctor – Dr. OZ – mentioned it on his show.
There is so much misinformation and exaggeration on the web when it comes to talking about Dr. Oz and what he does and does not say. We are going to keep things very simple and let you read the two references for yourself –
Here Dr. Oz Talks About Irvingia and Fixes for Women Over 40
Here Dr. Tanya Edwards Talks African Mango on the Dr. Oz Blog
So African Mango Really Is The Magic Weight Loss Pill?
Of course not! Nothing is going to help 100% of the people lose weight 100% of the time, especially without changes to diet and exercise. Still, African Mango has us intrigued enough to want to learn more-like how does it really help with weight loss? Is it an appetite suppressant? A fat burner? A carb blocker?
If you are as curious as us, continue on the learning journey as we examine the
Science behind African Mango and Weight Loss…